Quality home improvements.
Inspired by you, created by us
Expert double glazing
in Kent
Channel Windows is a well-established, local double glazing company in Kent that has been in operation since 1985. We take pride in our emphasis on customer service, making sure you have a professional experience when you choose us. There's nothing we care about more than making sure you're satisfied. Using high quality products that are top of the line, our installation team works to a meticulous standard to leave you with results you'll be proud of. We work with double glazing suppliers that we know we can trust and our attention to detail is unmatched.
We have a range of products that can match your requirements, your home's aesthetic and your budget. Plus, because we don't believe in pushy sales tactics, you can have complete confidence that the first quote we provide is the best one we can offer. One of our company values is honesty and this is reflected in every aspect of our business.
Double glazing in Kent reviews


Have a look at what our customers say

Our customers love what we can do for them.
To have a look at what they say about our services, have a look over some of our reviews.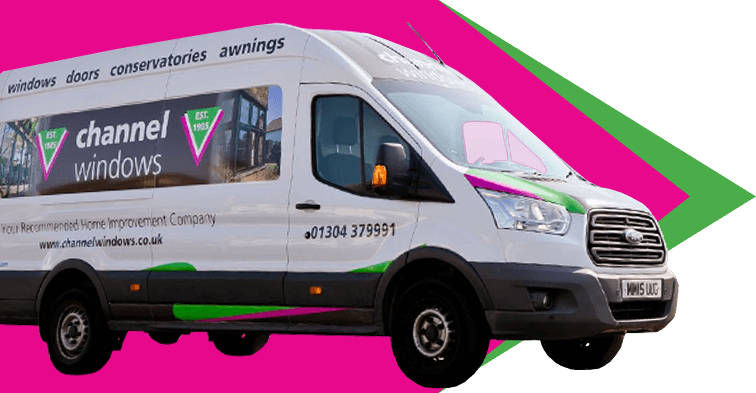 Arrange your
free double glazing quote


in Kent
Why do you need our double
glazing installers in Kent?
When looking to invest in home improvement products, it's essential that you trust the people installing them. Our team of double glazing installers are widely experienced in their field and they handle these products daily with fabulous results. Our customers frequently rave about their new home improvements, and even recommend our services to their friends and family.
Energy
efficient double glazing


in Kent

Having double glazing in your home will ensure that your glass traps heat and minimises noise. What could be better for increasing the comfort of your property? Double glazing is a brilliant way to make your home warmer – in the winter this could even mean that you save money on your central heating bills! We also provide window and door frames with accompanying furniture so that your home is stylish – your kerb appeal will be that much more appealing.
Why choose


Channel Windows for double glazing in Kent?
Well established
Since 1985 our reputation for great products and service has preceded us. Many customers recommend us.
Transparent
We'll give you the best price the first time around – honesty is our policy. We do the right thing by you.
Communicative
We'll do anything to make sure you have peace of mind. Have any queries? Check out our Frequently Asked Questions.
Personal
Everything will be bespoke to your needs and your home – practical products that suit your property.
Detail oriented
Our products are durable and of the highest quality. Our installation team's standard is incredibly high.
Reliable
We value honesty and we enjoy building relationships with our customers to make sure your wishes are met.
What can one of
the best double glazing companies


in Kent offer you?
Our
trade counter
We have high quality materials that you can rely on, count on us to be your double-glazing suppliers for bespoke projects. They come with up to a 10-year guarantee.
Servicing for your double glazing
From small jobs like hinge replacements to repairing your window unit, servicing your products is no trouble at all. We know them back to front.
Our showroom
in Deal
To see what our products could look like in your home, come to our showroom. It could help you make some choices!
To find out more about our expert double glazing services for customers in Kent, call us today on 01304 379991 or email info@channelwindows.co.uk.
We love getting to know our customers and doing everything we can to make sure they're satisfied.